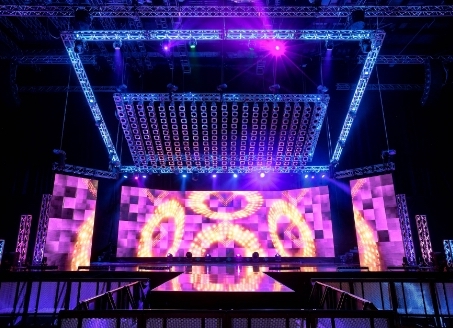 Appropriate lighting plays an important role in event success. The main reason for this lighting is to see your presenters showcased products and performances. Outdoor event lighting can be done in several ways. Some methods require spotlights or moving heads to be placed overhead. Other methods, such as uplighting, use wireless light sources and can be placed anywhere. Uplighting can be done in various ways, including colored disco uplights, LED pixel tubes, or string lighting.
Uplighting:
Uplighting can be used to create an atmospheric atmosphere at an event, which can transform the space. It can highlight focal points, and it can also help hide unsightly areas of the venue. Uplighting can also be used to add color, which is a fantastic way to make any venue pop.
String lighting:
String lighting is a great option to add ambience to your event. It is a cost-effective way to add light above your guests and can completely transform a room. These lights can be installed in either an indoor or outdoor venue. They are also perfect for weddings, as the main focus of wedding décor is usually at eye level.
LED pixel tube lights:
LED pixel tube lights are baton-shaped, waterproof, wireless, and adaptable to various surfaces. Originally used for cinematic lighting, they have become an increasingly popular choice for stage and event lighting. These fully programmable RGBW lights can produce an unlimited range of colors and effects. They can be used as uplights or as regular spotlights to project color up vertical surfaces.
Color-changing disco uplights:
Color-changing disco uplights are a fun way to add color to an event or party. They are often made of small moving parts and can be controlled remotely. The lights can either move in one direction or respond to the beat of the music.
Custom chandeliers:
Custom chandeliers are a great way to add a unique touch to events. They can be found in different styles and colors to fit your theme and budget. From vintage-style chandeliers to modern-looking ones, they can add an elegant touch to any event.
Moving lights:
Moving lights are an attractive way to add visual interest to events. They can highlight a particular speaker on stage, architectural detail, or design feature. They can also cast a wide angle of light to illuminate a room or event space.